A couple of weeks ago, Jim and I had the privilege of speaking at the In-House Agency Forum's Annual Conference. This year their conference focused on "Game Changers". As their program describes:
Our 2016 conference centers on today's rapidly changing marketing landscape and the significant demands placed on advertising and creative organizations as a result. We're calling it Game Changers, focused on the business, media and environmental factors that are changing the game in how marketing is conceived, and the companies that are leading the way in how consumers are engaged.
And while content marketing as we know it has been around for a while, it still is a Game Changer. Loads of companies purport to practice content marketing, but many do so in an unstructured, unfocused, and unremarkable manner. We structured our presentation to share the ways in which an organization can develop a strategy, build a team, assign roles, and implement a process.
There are many articles and books that discuss these exact topics. We know that. The feedback we received after our presentation was that we organized our information in an actionable manner using easy to understand frameworks and systems. So we decided to share it with our larger audience.
Does this even matter?
Before we decided on this topic, we asked ourselves… does talking about a content marketing strategy even matter any more? Meaning, is there an audience for it and don't they already know this? We turned to the Content Marketing Institute to find out. Their B2B Content Marketing 2017 Benchmarks, Budgets, and Trends – North America report offered some interesting insights. We understand many of our readers are B2C marketers, but in the interest of simplicity, we are using B2B statistics.
Fact 1: Marketers are using content marketing.
89% of B2B Marketers are using content marketing. Great. And of the 11% who are not, 52% plan to launch a content marketing effort within 12 months. Also great. So about 94% of those surveyed are either employing content marketing or will in the short-term. This tells us content marketing has a very high adoption rate.
Fact 2: Marketers cannot define content marketing success.
59% of B2B marketers do not have clarity around how to define content marketing success. So we have 94% of B2B Marketers using content marketing and 59% of those don't know how to define success. I cannot imagine any other marketing vehicle with this level of uncertainty. Banner ads are meant to drive traffic to the website, TV ads are meant to increase awareness which may be documented in higher levels of search, direct mail is meant to drive to sales, etc etc. 59% of B2B Marketers don't even know how to define the success of content marketing. This is a problem.
Fact 3: Marketers do not have a content marketing strategy.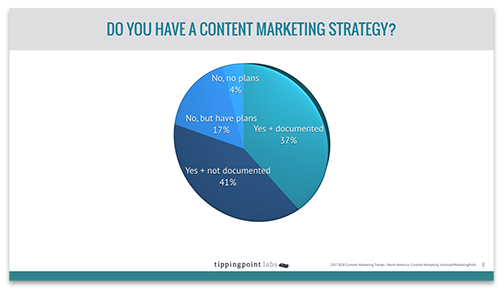 37% of B2B Marketers have a documented content marketing strategy. The rest do not. 41% say they have a strategy but it is not documented. I would argue if it is not documented then there is no strategy. A strategy is something that is concrete. It is shared by multiple stakeholders. It is the sieve by which all ideas and tactics are filtered. With no documentation, there is no strategy.
So, we quickly realized that yes, even with all the articles and all the books and all the information out there about content marketing and strategy, it might be useful to share our approach too. It seems like it is still the wild west, or a sh*tshow with little strategy, no team structure and no process.
In our three-part series, we will take you through:
4 frameworks to developing a content marketing strategy.
Building an internal content marketing team and assigning roles, aka a newsroom approach.
Developing a content marketing process.
Want a copy of the full presentation? Email me, Rebecca Garnick Ast, at rgast – at – tippingpointlabs dot com.
Stats above attributed to: B2B Content Marketing 2017 Benchmarks, Budgets, and Trends – North America